Today as lacy snowflakes fell outside of my office window, I resigned myself to the fact that winter is once again upon us. I'm famous for telling people that Milwaukee is one of the most underrated cities in the United States….in the summer. Summers here are gorgeous. Winters are brutal and long. They have given Milwaukee a bad reputation. I've met people who think it's cold and snowy here all year.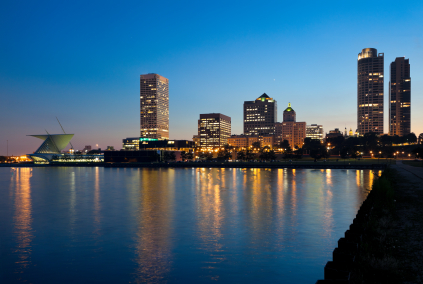 But I have to admit that even in the winter Milwaukee is an underrated city. Winter in Milwaukee is like summer in Phoenix. During the Phoenix summer people rush from an air conditioned house to an air conditioned car to an air conditioned store. During the Milwaukee winter it's the reverse. We go from one heated place to another.
So here are five reasons to love and appreciate Milwaukee…even in the winter:
The Third Ward. The Third Ward is one of Milwaukee's oldest neighborhoods. It has recently undergone a renaissance. The area is filled with great, independent restaurants, bars, The Broadway Theatre Center, and unique shops. Bundle up, wear a scarf, and enjoy the old streets of Milwaukee filled with modern entertainment.
Milwaukee Public Market. On the edge of The Third Ward is the Milwaukee Public Market, an open air collection of eateries, a cheese shop (What do you expect…It's Wisconsin?!), a wine shop, florist, bakery, and chocolate shop. All local. All unique. A great way to spend a winter weekend afternoon.
Milwaukee Art Museum (Calatrava). Not too long ago I was able to spend much of a day exploring all the nooks and crannies of this spectacular museum. Renowned architect Santiago Calatrava designed Milwaukee's distinct landmark, the Brise Soleil. Inside it's light, and warm, and filled with fantastic art. This winter I'm going to have to check out Impressionism: Masterworks on Paper.
The Pabst/The Riverside/Turner Hall Ballroom. Three great venues. Limitless opportunities for fantastic live music. Although I love all three places, Turner Hall Ballroom is one of my favorite music venues anywhere. It's a nineteenth century German ballroom that has been converted into an intimate concert setting. I have seen, amongst others, Shelby Lynne, Rocco Deluca and the Burden, Mat Kearney, and The Civil Wars (twice) in this retro-hip little space.
Brady Street/East Side. Brady Street is a quirky neighborhood filled with hipsters, artists, aging hippies, and college students. It too has great independent restaurants, a wonderful neighborhood Italian grocery, and watering holes filled with regulars. Just around the corner is the Oriental Theatre, which was built in 1927 as a movie palace. The theater is filled with East Indian decor and shows independent, quirky, and artsy films. It's a great place to escape a bitterly cold Wisconsin night and see some great art.
Milwaukee is a great place to live. Now if only we could get spring to make her appearance much earlier. In the mean time, I'll try to enjoy my underrated city…even in the sometimes bitter cold.
If you're from Milwaukee, what are your favorite places? If you're not from Milwaukee, what do you love about winter time in your city?