Raise your hand if your Christmas holiday went too fast. You can't see me, but I'm raising my hand. My Christmas holiday went far too fast. It always does. Our son, Ben, came home the Saturday and left the day after Christmas. While he was here he got engaged to his girlfriend, Emily, who had also flown in for a couple of days. Her family surprised her by flying into Orlando the night they were engaged. My parents came in the day after Christmas. In the midst of it all our daughter, Ashlyn, and her husband, Josh, were at our home Christmas Eve and Christmas Day.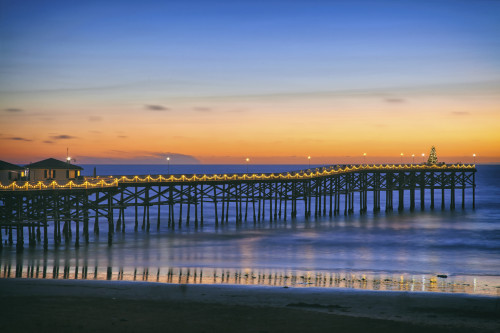 For weeks we had anticipated this time together with our family. More than that, we had anticipated everything the entire Christmas holiday stands for. Advent worship services prepared us. Devotional time got us ready. We did our shopping (mostly online) for Christmas gifts. We had a party. We cooked and baked things that we seem to have only this time of year.
We didn't want it to end. But now Ben and Emily have gone back to Nashville. Most of the food and baked goods have been eaten. Wednesday Advent services are finished for another year. Christmas Eve and Christmas Day, when we sang, "Glory to the newborn King," are but memories that will linger for a long, long time. The gifts are opened. Some have already been returned. People in our neighborhood are inexplicably taking down their outdoor lights.
Now it's all over.
Or is it? Though it may seem the the Christmas holiday is over, there are certainly ways to make sure that it is extended. I'm not delusional enough to say that the "Christmas spirit" can last the whole year. But it can most certainly last far longer than the radio stations or retail outlets will lead you to believe.
Here are three ways to extend your Christmas holiday:
Count to twelve. There's a good reason for the song, "The Twelve Days of Christmas." The church has always celebrated Christmas for twelve days. It's the number of days between Christmas and the day of Epiphany (which is the remembrance of the visit of the Magi). Even though most of the world has already moved past the Christmas holiday, thousands of years of tradition allow us twelve good, long days to celebrate the birth of the Savior of the world, as well as the love of family and friends, and an extra measure of peace. Be intentional about using all twelve days to celebrate. Keep cooking the good food. Make one more batch of cookies. Give a few more surprise gifts. It doesn't all have to end quite yet.
Record your memories. Every Christmas Eve since Tammy and I have been married, we have taken a picture of our family on Christmas Eve. Each picture now resides in a little photo album that comes out each Christmas holiday. It's a great way to extend the season as we look through it these days after Christmas. There are other ways to record your memories, as well. You could start a journal in which you write the memories of the season. Then bring it out next year and write in it again. In this video age you could put together a Youtube "trailer" of this year's events. It would be a great project to bring you into the new year and leave you memories to cherish in the future.
Be counter-cultural. Keep the Christmas spirit. Despite the lack of Christmas music on the radio and in the stores, keep playing it in your home and in the car. Don't give in to our throwaway culture that wants to immediately move on to the next thing. Linger a little while. Bask in the warm glow of Christmas. A new year may come and go, but Christmas lasts until January 6th. Keep it going. If we all do this, maybe we'll start a movement.
How do you extend your Christmas holiday?