I've attended a great many graduations over the years. I've been a parent, a participant, and even a speaker. For some reason graduations make me very emotional. It may be the pomp and ceremony, or, more likely, the marking of one of life's milestones.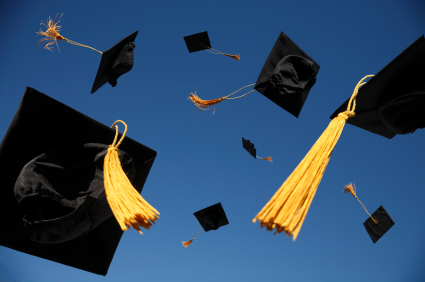 There are many positive things about graduation ceremonies. But maybe it's time to re-think and update them.
Here are some of the things I'd suggest to someone planning a commencement ceremony in the year 2012 or beyond:
Always have a Communications professor make one of the major speeches. The best speech I heard this weekend at our daughter's graduation was done by a communications prof. Um, they know how to communicate.
Convince the major graduation speaker to be short-winded. Nobody's there to hear them…but they could still have a huge impact with a short, properly worded speech.
Let grads tweet their thoughts during the long awarding of diplomas. A screen above the stage could scroll (screened) tweets that would be wildly entertaining during that long drawn out process.
Make it visual. Use screens to display an action photo, piece of art, or some other  work done by each graduate. In this day and age of technology it would be easy to do.
Give the poor faculty something to do other than sit there during the ceremony. Maybe they could escort the top student in their discipline. Perhaps they could read the names of the names of the students they had in class (logistics could be figured out).
Involve parents by letting them interact electronically. Instead of lining up at the end of the stage to take pictures, they could walk across the stage with their child (again logistics could be figured out).
Honor extra-curricular activity. More than letting the choir kids sing and the band play, displays of talent could be made by athletes, theatre students, or forensics club members.
How would you make a commencement ceremony better?