Jeff Goins is a blogger extraordinaire. He's good at it. He does it every day. His writing is inspiring, helpful, and creative.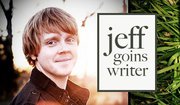 I first came to know Jeff when we attended the re:create conference together this past February. We didn't meet there in person. But following the conference we came to know each other through the wonderful tool of Twitter. I was drawn to Jeff's blog because he was so faithful, because his posts are so helpful, …and because it often has to do with creativity.
I also love the fact that Jeff wrote a brilliant post about the benefits of Twitter. You would do well to check it out. If you're wavering on the benefits of participating in Twitter, Jeff gives good reasons to give it a go. (I could have added Jeff's last name to that sentence, but maybe it would have been too much alliteration…)
Here are Jeff's thoughtful responses to my seven questions about creativity:
Tom: Define creativity.
Jeff: I like the definition of creativity that my friend Paul Martin gave me. He pulled from his experience as a jazz musician and said this: "creativity is self-limiting." Creativity is the act of setting boundaries and limitations to harness your power to bring something new into existence.
Tom: When did you first realize that you were "creative"?
Jeff: I realize that I'm creative in increments. When I first wrote a song on the guitar, I realized that I was a little bit creative. When I was the lead role in a play, I realized it a little bit more. When I started blogging, more creativity was unleashed. When I did a speaking engagement last week, I had an even deeper revelation of my own creative power and energy. I think we're all creative and have these little realizations when we make ourselves available.
Tom: How do you cultivate your creativity?
Jeff: The only way I know how to cultivate creativity is through discipline. Everything else (going for walks, listening to music, etc.) is just icing on the cake. The word "create" is embedded into the word "creativity" — in my mind, if I'm not creating, then I'm not being creative. This doesn't come naturally; I have to put myself to work.
Tom: When and where do you do your most creative work?
Jeff: I do my most creative work on the couch, but that's just because it's there. Occasionally, I need to change locations to inspire new attitudes in me. Sometimes, I sit on my porch, go to coffee shops, etc. I also find that airplanes are great, because there's no wifi connection. Incredibly productive.
Tom: Who is your "creative inspiration"? Why?
Jeff: I love Monet.
Tom: What advice do you have for aspiring "creatives"?
Jeff: Just ship it. Just do something. Stop making excuses. Stop waiting for permission. Just begin. The Muse will find you.
What do you think of Jeff's ideas about creativity? Any new insights?