Tonight did not go the way I had planned. As my wife said, I set my goals too high. My plan was to pay the bills, update the family budget, and cook dinner. Then I was going to write a piece for our church's weekly email, work a bit on my sermon, and do some personal planning and goal setting. Finally, I was going to join our friends from church on a Facebook Live event, write my blog and read some of a fascinating book that I can't seem to put down. But it all got derailed.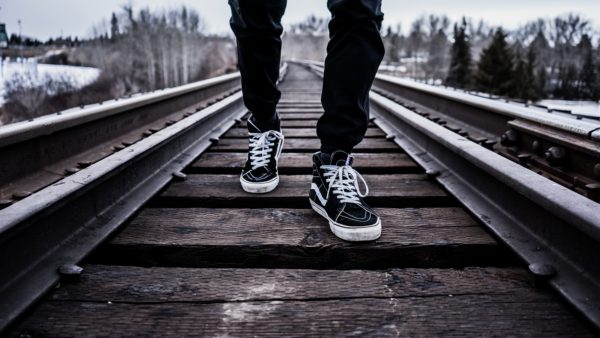 Now that I look at my list, it would have been a major feat to complete even a majority of it. I didn't even get half way through it. I came home and started updating the check book so that I could write bills. It took longer than I thought. Before I knew it I had to cook dinner. Once dinner was finished I went back to the check book and discovered a discrepancy (don't you hate that?!). It took me (with the help of my wife) another hour to figure it all out.
Can you say: "Derailed"?
I finally got to paying the bills. That took me another forty-five minutes. By then it was time to join the Facebook Live event. After that I sat down to write this.
All of which is to say I didn't get to the majority of my goals for the evening. I didn't update the budget. My evening church work went by the wayside. The goal-setting I had intended to do didn't get accomplished. And I really wanted to get to that book.
Have you ever had a day or an evening like this? It happens far more often than I'd care to admit.
But I'm learning these derailed days and nights can be redeemed. Here's how:
Count the blessings. I looked back on the night and remembered that I had more than enough money to pay my bills. Not everyone can say that. More than that, I was uplifted by my friends from church as we gathered together online.
Learn to be reasonable. The next free evening I have will be planned with a much less aggressive agenda. I will build in more flex time. It's more difficult to be derailed if one's goals can't be characterized as "biting off more than you can chew."
Allow yourself a reward. Be easy on yourself. Even if you don't accomplish all of your goals, you deserve a bit of leisure at the end of the day. So I think I'll go read at least a few pages of my book.
Getting derailed is a part of life. It seems almost nothing goes as planned. We do well to expect the unexpected.
What do you do when things get derailed?