Weddings are both weird and wonderful. The weird part comes from a conglomeration of people who have never been together before — and never will be again — joining to celebrate the union of two people with whom they somehow have a relationship. There are two families and two sets of friends. It makes for a mishmash at the reception that leads to interesting discussions, long lost friends being found, and serendipitous meetings. I've even known couples who have met at weddings that eventually themselves get married.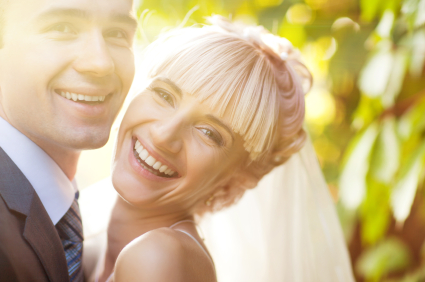 The wonderful part happens at the most unexpected times. Our niece was married this past weekend. We love her and her new husband. They are fun, faithful, and a fantastic couple. They proved it, when at the rehearsal dinner, they both spoke eloquently, thanking their parents for bringing them to this point in time.
Their informal speeches were filled with quiet passion, emotion, and a strong dose of their Christian faith. In short, they were wonderful.
There we were in the party room of a dimly decorated place  near downtown St. Louis. The room was quieted, and the two began to speak. The speech our niece gave was formed around the phrase: "When I think of you, I think of…" She made a list for each of her parents, recalling many of the things they had each done to bring her to this point in time, and make her who she is. She recalled the ways they helped create her competitive spirit, her love of art, and instill in her the Christian faith.
It was masterful. The words she spoke were so much from the bottom of her heart, that they welled up in her and made her cry. They were tears of love. And tears of love are the sweetest of all tears.
Those tears were not at all weird. They were wonderful.
But the love didn't end there. It kept flowing the next day as we all came together in the Lord's house to see right before our eyes a picture of Christ and His bride, the church.
In a wonderful way, as vows were said, we were reminded that as a husband gives of himself for his wife, Christ gave His life for the church. Given the opportunity, a husband ought to do no less.We were reminded that as a wife loves and serves her husband, so the church loves and serves her husband, Jesus. Given the opportunity, a wife, and the church, ought to do no less.
The weird thing is that Christ did what nobody really expected. Though He was God, He became man and gave His life for His bride, the church.
The wonderful thing is that the church (though sinful and often self-centered) willingly and lovingly serves her husband, Jesus. Though she is frail and fails, the bride finds joy in serving and service.
Weird and wonderful. It's strange to think that this will all culminate in the ultimate wedding feast at the marriage feast of the Lamb in the kingdom that will have no end.
I imagine it will be a wonderfully weird conglomeration of people on that day. There will be passion, emotion, and tears of joy that will be eternally wiped dry.
What do you find weird and wonderful about the picture we are given of Christ and His bride, the church?