Thinking about that day still almost makes me cry…in a good way. It was literally a procession of miracles.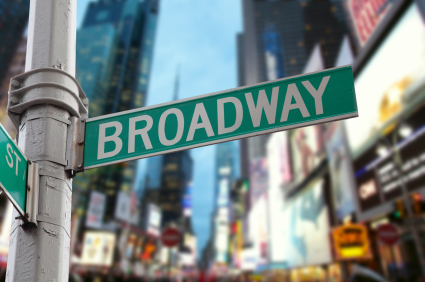 Our family had arrived in New York City in the summer 2004. Beyond being tourists in the city that never sleeps, our main purpose was to see as many shows on the Great White Way as we possibly could. Our family loves theatre and wanted to see it on a scale that is the best the world has to offer. So when we hit the ground in Manhattan we already had some tickets in our hand.
But the one ticket we couldn't secure was the one to Broadway's hottest show: Wicked. It was the show we all (…almost all of us) wanted to see more than any other. The problem was, so did everyone else. It was impossible to get tickets. Well, almost impossible.
It would take a procession of miracles for us to secure tickets. We knew there were two possible ways we might get the most coveted tickets on Broadway:
Wait in the stand-by line early in the day to see if there would be any ticket returns.
Win the daily lottery for two $25 front row tickets.
We knew it was a long shot, but decided to give it a go. I would wait in the stand-by line for a while as the rest of the family did some Manhattan shopping. I got there mid-afternoon and a line had already formed. Then, when the time came, the rest of the family submitted their names for the ticket lottery (I wasn't allowed to because I was in the stand-by line).
To make a long story short, as showtime neared our daughter Ashlyn won two tickets in the lottery (I heard her name called while I was in line). It was nothing short of a miracle. Dilemma: which two members of our family would see the show? I was still waiting in line to see if two more tickets would free up. I gradually worked my way up to being first in line after a few people scored tickets.
Showtime was less than five minutes away as the ushers began telling people they needed to be seated, or they'd have to wait for the first break. Just then I was called to the ticket window. Two tickets had been returned: orchestra section, twelve rows from the front, right in the center. I bought them, and in we all ran.
It took a procession of miracles. Just as we sat the overture began and we all witnessed one of the most magical things we had ever seen with our own eyes (even son, Ben, who thought he'd rather be shopping on the streets of Manhattan). It was one of the most enchanting of a days of my life and one I will never forget.
On this year's Tony Awards Bono of U2 said that every show on the stage that evening was "a procession of miracles." Indeed. I've been in enough amateur productions to know that from the very start of the rehearsal process until the very last performance there are "a procession of miracles" that bring the magic of a live performance to an audience. There are always points where it seems as though the show will never be able to be pulled off. How much more so with today's Broadway productions that include technology of all kinds. And some never do make it.
But the ones that do are a procession of miracles.
Theatre is a form of art that truly lives and breathes. There is no screen to separate. Audience reaction has an impact on actors. The chance of a forgotten line, missing prop, or malfunctioning set add to the wonderful tension. The applause at the end is an affirmation of of the procession of miracles that has just been witnessed and appreciated.
I, for one, am so very privileged to have witnessed this procession of miracles numerous times in my life…but especially that incredible day in the summer of 2004.
Where have you witnessed a procession of miracles in your life?