The day after Easter 2010, Coach Brad Stevens and the Butler Bulldogs almost won it all. In the NCAA men's basketball tournament, they fell just short of a National Championship as they lost to perennial powerhouse Duke University.
But like the old camp song, "Bullfrogs and Butterflies," the Bulldogs have been "born again." They can teach a thing or two to small organizations, young people, and even small churches.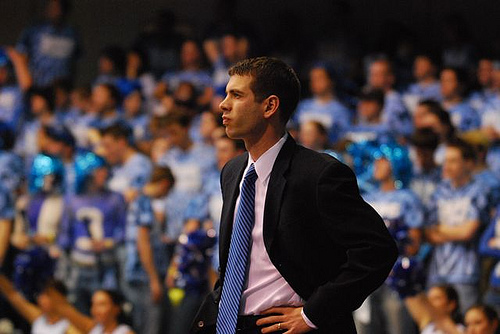 Butler's coach, Brad Stevens, was the butt of many jokes during the final four weekend. People said he would be going out after the game with Justin Bieber; they said that he looked like he was twelve-years-old; they said that if he lost, he'd go running home to his mommy.  In the end, Stevens got the last laugh.  He did what many older, and more experienced coaches have never done before.  He took a team to the national championship game.  In actuality, Stevens is 33.  But his relative youth is an example to many of those who are young, or "young at heart."
1 Timothy 4:12 says, "Don't let anyone look down on you because you are young, but set an example for the believers in speech, in life, in love, in faith and in purity." Hard work, determination, goal-setting, and creativity will get you a long way, no matter your age.  Stevens left a successful career as a marketing guy for the Eli Lilly Corporation to pursue a career as a basketball coach.  A gamble?  You bet.  But with his goal in mind he rose through the ranks of assistant coaches to become a head coach, and ultimately the coach of a team playing for the national championship.
Don't let anyone look down on you because you are young. You set the example.  You set the goal.  You be the first to try the creative option.  You take the risk.  You do it with faith and character.  Young and old will look up to you.
Butler University is "born again" in the eyes of the nation because it is a small liberal arts school that has had a major impact. Butler University claims only about 4000 students.  It now has a basketball program that has defeated teams that come from schools double, triple, or quadruple that size.  You can bet that a great many basketball players and students will be taking a second look at Butler University because of the incredible run they had this March.
Butler is a school that has had an impact not only on the city of Indianapolis, or the state of Indiana, but on the entire United States through current students, alumni, family, friends, and those who root for the underdog. It just goes to show that it's not the size of the organization (or church!) that matters.  When it seems as though the numbers put you up "against the odds," relationships and heart matter.
Those who were related in some way, shape, or form to Butler showed their school pride. A small school did big things.  The Bulldogs used their underdog (pun intended) status to gain support.
How can you, or your organization, or your church use seeming weaknesses to garner renewal and support? At our church, Mt. Calvary Lutheran, Milwaukee, we encourage one another to be "pray-ers," and "bring-ers," and "tell-ers."  Though we are a congregation of only 400 or so, we have an impact on an entire community through our school.  Though our Sunday School is made up of mostly very young children, they used their time to make cards that are distributed to members who are in the hospital.  Through a brand new program called "Mt. Calvary Home Makeover," our small congregation will be having an impact on the lives of those who live in less than comfortable conditions.
This Easter, 2010, Bulldogs and Butterflies have both been "born again."
What ideas do you have for small, young, or seemingly insignificant organizations to have a big impact in the community, the church, or society as a whole?