My grandmother was one of the largest personalities I ever knew. She was the matriarch of the family, the queen of The Lutheran Home (where she spent the last years of her life), and the jewelry diva of the city of Milwaukee.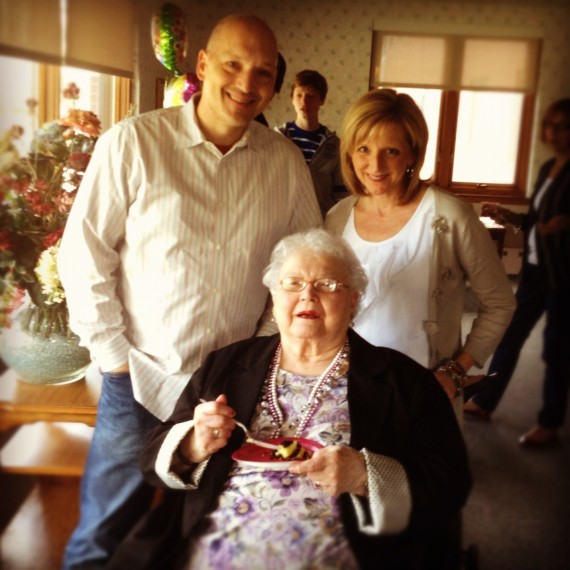 On Saturday we lay her to rest. But her presence is larger than life and will last in the legacy that she left.
Grandma Eggebrecht lived large. There was nothing timid, shy, or fearless about her. She filled a room with a personality that wouldn't quit. Wherever she was there was laughter, conversation, drama. But there was never more than two seconds of silence. Grandma had to fill that space with words.
She lost her husband, my grandfather, more than thirty years ago. Until then she didn't know how to drive. She took lessons. Learned to drive. And tooled around in her sedan for most of the rest of her life. She had more friends than anyone I know. She loved cards, and manhattans, and polkaing at weddings. She was always the life of the party.
My cousin, Suzy, captured her so well:
Auf Wiedersehen, Grandma Eggebrecht. I'm so glad we got to say goodbye to you last night. I'll always remember someone who laughed a lot, loved to dance and always seemed to sing the loudest in church; who always had Donettes when we slept over, Bugles at her parties & bags of mixed nuts for us under the Christmas tree; who taped quarters to the insides of our birthday cards and who I watched roll a quarter off her nose in a bar the first time she ever played a game of quarters; who once gave me a firm scolding for telling someone to shut up but everyone once in a while let some questionable language of her own slip out; who learned to drive at age 60 and then would sometimes drive car loads of little old ladies past our house so they could see where we lived (those poor ladies held hostage :)). Now you and Grandpa are polkaing thru eternity…
She is living large right now, because throughout her entire life she leaned large on the One who gave her new life in the waters of Baptism. That's why you could always hear her singing in church louder than anyone else, see her reading her Portals of Prayer every morning, and unashamedly speaking of her faith…even literally laughing in the face of death.
Grandma's life was so large that it lives on in the lives of her great-grandchildren. In them you can see her dramatic personality, her amazing ability to imitate people, her love of fashion, her gift of gab, her sense of humor, and her passion for food. Though she was very poor for a major portion of her life, she never seemed to complain about lacking anything. Instead she lived large until her last day.
I learned from my Grandma how to "live large." Here's how:
Laugh
Smile
Pray
Sing from the bottom of your throat
Talk to anyone who will listen
Never be afraid to dress "loudly" or wear gaudy jewelry
Brag about your children, grandchildren, and great-grandchildren (in moderation) to anyone who will listen
Read your Bible
Enjoy dinner and a drink
Dance the night away at weddings
Enjoy the privilege of age
Never regret living large. Life here is short. But with saving faith it leads to living a much larger life in the age that is to come. With that in mind, how can we help but live large?
Whom do you know that provides a great example of living large?