Every adult would love to recapture a childlike spirit. I was reminded of this when I went out on a run the other day. As I rounded a corner about five little boys were running between houses, hopping on scooters, and riding bikes. Later on in my run I saw them playing football in an open field near our house. Immediately my mind raced back to Tacoma Street in Milwaukee and my friend Louie.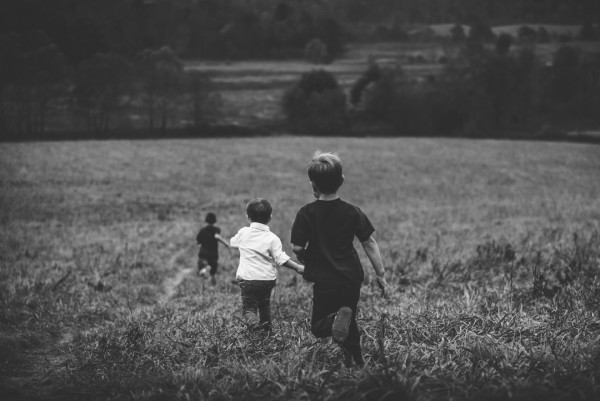 I remembered those crisp fall days when I was Bart Starr and Louie was Max Mcgee. I could feel the crisp fall air and the smell of the fallen leaves. Who needed a coat? We'd run so hard we'd be sweaty in mere moments. After school was out we'd run out our doors and meet down at the corner between our houses. The only care in the world was whether we would win our imaginary football game. We'd be out until the streetlights came on and then dutifully marched toward our glowing homes where we would settle down, watch some TV, and go to bed.
This trip down memory lane got me to thinking how I could recapture that childlike spirit as an adult. Now it seems like there are so many more cares, so much more pressure, so many adult worries. It can be tough to be an adult. Sometimes it would be nice to be like those kids down the street from our house, or like me and my friend Louie. It would be great to burst out the door, run down the street, and play a game of pick up football.
Maybe we can't have that back completely. But what if we could recapture it temporarily, even for one day, or an evening? Think of the ways a childlike spirit could fuel an energetic creativity in our work and home life.
I brainstormed some ideas to do just that and here's what I came up with:
Reserve a Saturday morning for a hike on a local trail
Invite a friend to ride bikes to a nearby ice cream shop
Invest in an adult coloring book
Get out some watercolor paints use them…better yet, find your local "wine and paint" event
Write a silly poem or make up a haiku
Spend some time on a college campus and just observe the students (in the 13 years I taught on a college campus I always marveled at the creative energy)
Get the neighborhood together for a game of touch football and pretend you're Bart Starr
I guarantee that when you complete any of these activities you will recapture your childlike spirit and fuel your creative energy. Who doesn't want to feel like a kid again, if just for a little while?
What would you do to recapture a childlike spirit?