The four-, seven-, and fourteen-year-old boys crawled into the back of my car. It was time to head to the 4K Christmas program at school. "Nice car, Pastor," said the youngest. They bounced around and got their seat belts on as their grandmother climbed into the front passenger seat.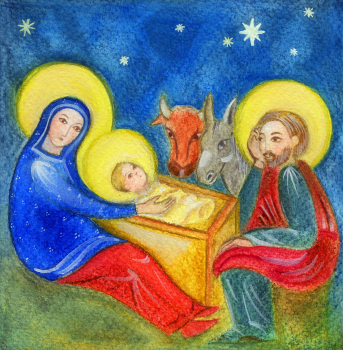 I was picking them up in one of Milwaukee's rougher neighborhoods because they no longer have a car. It was stolen. Grandma and the boys live together with the boys' parents. More than a year ago they were evicted from their rented home because they had all lost their jobs. Now they live in the house of grandma's son. Let's just say that there are less than savory characters around.
It's been hard for the boys to keep up with homework and concentrate on school. There are too many distractions.
Grandma's doing all she can to keep the family going. Mom and Dad now have jobs. But it's difficult to find someone who will rent to them again.
It's all they can do to keep the faith. Losing a house, a car, and one's dignity can have that effect.
On this night, the baby Jesus was born at the Christmas play to bring some hope into the midst of frazzled faith.
After the angels twirled around, a shepherd dropped his stuffed sheep, and Christmas cookies were consumed, I took the boys and their grandma home again. When I dropped them off I thought about that one little sentence out of the mouth of a four-year-old: "Nice car, Pastor."
You see, I've haven't really been appreciating my car lately. Or the fact that I can make my mortgage payment. Or the food that I so easily put on the table. Or the fact that I have a way to pay for the new roof on my house.
I so often take it all for granted and fail to appreciate it. I want to do more to help others. I want to find those boys a decent place to live. I wish I could get them a new car.
I want to do all of those things, but know that I can't. Most of all, I'd like to repair the faith that is faltering.
Only Bethlehem's Babe can do that. He came to bring hope, faith, and love even into desperate situations. He came into the midst of poverty to make us rich. He came to experience death to give us life. Only through His cross is there hope when we bear our own crosses.
I pray that He helps them hold on. And I ask for forgiveness for taking my blessings for granted.
In the mean time, I will do what I can, when I can, to the best of my ability, to help make life easier for others.
What can you do today to help someone who really needs the help?