While we are waiting for our house to be built, my wife, Tammy, and I are temporarily living in a retirement community. Our first day here a lady pulled up next to us in her golf cart and we said, "How's your day going?" She responded: "It's always a great day at the Haven!"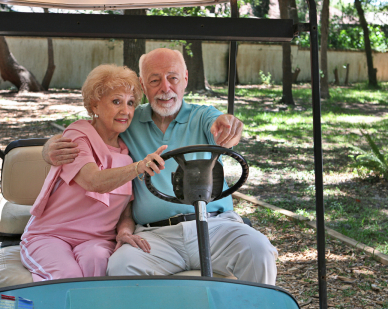 And that has been the sentiment of almost every person we have encountered here ever since.
Here are just a few observations I'm making about life in a retirement community:
All kinds of people are walking, riding bikes, and exercising early in the morning.
Clouds of perfume remain even after women walk away.
Couples walk hand-in-hand at sunset.
Golf carts become the major mode of transportation on "campus" (wouldn't YOU love to tool around in one of those things whenever you wanted?).
People are relaxed and always friendly.
Everyone waves.
It is a law to sit on the porch in the afternoon when the weather is nice.
When you live here you get to say whatever you want…no filters!
Every morning the humid Florida air leaves a heavy layer of dew on the grass. It's like manna from the sky. I'm convinced that along with that dew a layer of love is left behind. When you get to the point in life that the days ahead are shorter than the days behind, nothing is more important than love. And it shows itself around this place in many and various ways.
On those sunset evenings when romantic walks are taken around the grounds, hand clings to hand knowing that life is short and love is what matters.
Living at the retirement community reminds me that 
Life is short
Love is long
Waving is the magic wand that sprinkles good will all around
Sometimes sitting on the porch on a warm summer afternoon is just what the doctor ordered
Use just a little too much perfume every once in a while
When all else fails, relax a little bit
…And drive a golf cart every once in a while so that you feel like a kid again
What have you learned from those who are older than you?