I haven't wiped out on a bike since I was about 11-years-old, and was doing something stupid. As of today, I can't say that anymore. I went for a ride with my friend, Marc, an expert mountain biker. I learned something about Marc. And I learned something about myself.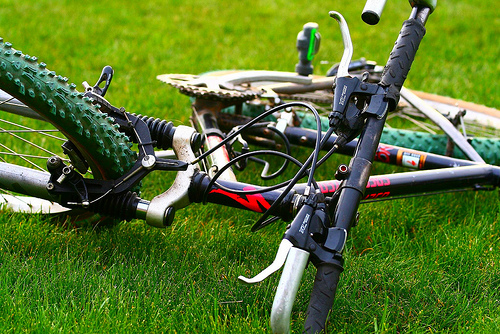 The trail we rode today was what Marc calls a "technical" trail. That means there are lots of twists and turns through very narrow passages in the woods. It means that tires can get caught in crevasses, handlebars can get hooked on trees, and bodies can fall off of bikes. Let's just say this is the first time in my life I really needed a helmet. I fell off of my bike three times, one of which was a "header" into roots and stones.
As I write this, I've got a cut and two bad scrapes on one leg; a bruise on the other leg; a cut on my finger; a sore shoulder; a small headache; a scrape on my neck; and a sore sternum (which is a recurrence of an "old football injury"…no lie!). And that's just my body.
That wipeout wasn't too kind to my bike, either. It seems I may have bent the front fork. Marc said, "That's pretty impressive." I was proud. Then we finished the rest of the loop, which concluded with an uphill climb so steep that I felt every last one of my 47 years. But because my fork was bent, I couldn't go on anymore. So Marc went and rode with a friend of his we had passed on the trail. I went home to nurse my wounds.
Here's what I learned about Marc: Marc models the kind of leader, the kind of pastor, the kind of friend I would like to be. As we started, Marc said, "If at anytime you need me to slow down, just let me know. I have no problem doing so." He put me, the amateur, at ease, and made me feel comfortable. I don't know how much he was keeping it slow for me, but I seemed to be able to stay with him pretty well.
Not only that, but Marc was out ahead of me, vocally warning me about muddy spots, sharp turns, and narrow passages. I found out how nice it is having someone out in front leading and guiding the way. He even taught me things I had never known about being a good mountain biker. They are skills I hope to use again soon to improve my rides.
Marc was also able to temporarily fix my bike well enough so that I could finish the trail. A leader that has knowledge and technical skill is a true blessing. When things go wrong and broken stuff gets easily fixed (temporary or not), it keeps everything moving toward the goal of the finish line.
A good leader, a good pastor, a good friend, puts people at ease; goes out ahead to guide the way, warn of danger, and improve skill; and, to the best of his ability, keeps things moving toward the goal. That's the kind of person I want to be. It's the kind of person Marc is.
Here's what I learned about myself: After Marc left to ride with his friend, I sat in the car and took stock of all of my injuries, my broken bike, and my wounded ego. I deduced that everything was OK. Then, before I even left the parking lot, I decided that I wanted to ride the trail again. Soon.
That trail will not conquer me. I want to improve my skill. I have the deep desire to improve. I want to one day lead someone else through those trails. I want to be able to feel the accomplishment of successfully finishing without falling. And I'd like, one day, to help someone else accomplish that, as well. Something deep inside of me is screaming: "Never say die!"
I want to adopt that attitude for my personal life, my professional life, and in my vocation as a pastor.
What have you experienced lately that has shaped the way you work, or lead, or live?  Please let me know. I'd love to learn from it, too.
Now…excuse me while I go take my bike into the shop.