Where have you seen God at work this week? Was it in the nice thunderstorm the other day? Was it the unexpected check you got in the mail? Was it in the good report from the doctor? Did you see God working in the flowers and vegetables growing in your garden? Did you see Him working in love and forgiveness after a family fight?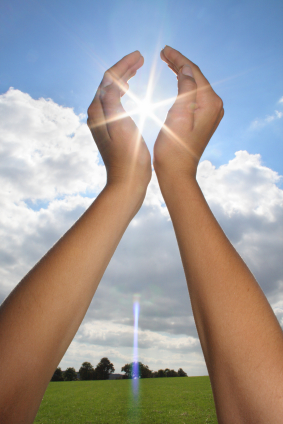 Or maybe it was much more difficult for you to see God at work this week. Maybe that thunderstorm brought water into your basement. Maybe there was an unexpected bill that came in the mail. Maybe the doctor's report was not at all what you were hoping and praying for. Maybe the heat wilted your flowers and stunted the growth of your vegetables. Maybe there are grudges still being held in your family, and you're holding onto them right this very moment.
You know where I'm going, because you know Romans 8:28: "We know that for those who love God all things work together for good, for those who are called according to his purpose." God was and is working "good" in the water in the house, the extra bill, the difficult diagnosis, the wilted flowers, and even the family fight.
St. Paul assures us that God works all things together for good, and here's how: God accomplished everything needed for our salvation and it is given to us as a gift. It is complete. It is past tense. Or, in the words of Jesus, "It is finished."
All things work together for good for those who are called according to His purpose because:
God knew you ahead of time, not just before you were born, but even before the world began. He looked into His looking glass far into the future and saw you, and knew you. He loved you intimately even then. (Romans 8:29)
God predestined you to be His own. He has loved you with an everlasting love. He made sure that you had your salvation from time immemorial. His plan was to adopt you into His family long before time started. (Romans 8:29)
God conformed you to the image of Jesus. When you were baptized into the death and resurrection of Jesus you became like Jesus. In Jesus you are now perfect, obedient, in full fellowship with your Heavenly Father, and brought to an elevated place next to your Heavenly Father. It's an accomplished fact. (Romans 8:29)
Jesus died and rose again so that all things work together for good. You may find out tomorrow that the water in your basement leads you to discover an old treasure. You may find out next week that the unexpected bill provides a chance for God to show His providing nature in a way you never expected. You may see that the family fight leads to a renewed sense of love and forgiveness.
But, then again, you may never see until the Last Day the good that is worked in these situations. Never fear. God has made His people more than conquerors over all the evils and ills of this world through the gifts of His love, forgiveness, and Heavenly eternal life. No matter what, in the end, all things work together for good because we have a good God who grants the one gift that not even sin, or death, or the devil can take away…and that is the gift of eternal life.
In the end, all things work together for good because of the intimate presence of a crucified and risen Savior who is, Himself, good. And even today, even in the midst of bills, break-ups, and bad news, He intercedes for you before the Heavenly Father. And because of the blood the Father hears and helps.
So does God work together for good in:
Tribulation?
Distress?
Persecution?
Famine?
Nakedness?
Danger?
Sword? (Romans 8:35)
Yes, yes, yes, yes, yes, yes, and yes.
And here's why: Because of Jesus Christ and Him crucified, "neither death nor life, nor angels nor rulers, nor things present nor things to come, nor powers, nor height nor depth, nor anything else in all creation, will be able to separate us from the love of God in Christ Jesus our Lord" (Romans 8:38-39).
All things work together for good. Yes, all things.
How have you seen God "working together for good"?