They say the heart of rock and roll is in Cleveland. I recently had the chance to feel that heart beat when I visited the city and the Rock and Roll Hall of Fame. One of the highlights for me was to see artifacts from one of my all-time favorite bands: Electric Light Orchestra. I got to see highlights of their induction which happened earlier this year. In addition, there were guitars, clothes, and other artifacts from the band that brought back memories and fascinated my creativity. It was fun to see how fame often has humble beginnings.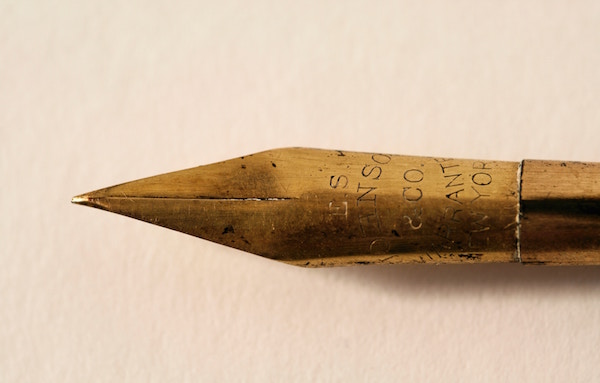 I was most fascinated by the numerous handwritten artifacts. Most of them were the original manuscripts of famous songs. The songwriters took pen to paper and scratched out lyrics that are now on the hearts, mouths, and minds of millions. It speaks to the power of simple paper and pen.
Jeff Lynne, the founder and front man of ELO, talked about the encouragement he received from his father. He picked up a used guitar and started writing songs. His dad saw Jeff's potential, bought him a new (used) guitar, and told him to keep on writing. That encouragement led to a lifetime career in music, working with former members of the Beatles, and being part of a "supergroup" named the Traveling Wilburys.
Certainly not everyone needs, or even wants, fame. But we all need a certain kind of fame if we want effectiveness in our work or vocation. Every leader needs to be known well at least by those one leads. What better way to become known than by writing?
While we were in Cleveland I ran into a good friend who wants to do just that. Their kids are now all out of the house and she wants to start a blog. So she asked me about how to get started, logistics, and content. She has a great idea for her blog. I'm certain that she will attain the kind of fame she desires. She has the passion and the ability. She's about to use her newfound fame for the benefit of others.
All it takes is putting pen to paper. Who knows where it might lead? There are all kinds of people in my life that I wish would write and put their musings out into the world. It would make this world a far richer place.
Why not you? You might even end up in some kind of hall of fame, even if it's your own family hall of fame.
What can you write today?
SaveSaveSaveSaveSaveSaveSaveSaveSaveSaveSaveSaveSaveSaveSaveSaveSaveSaveSaveSaveSaveSaveSaveSave
SaveSaveSaveSave
SaveSave