Who'd have ever thought it would come to this. That's probably what she was thinking as she sat there in the nursing home room feeding chocolate ice cream to her husband of 57 years. If you drew in your mind a picture of faithfulness, this is what it would look like.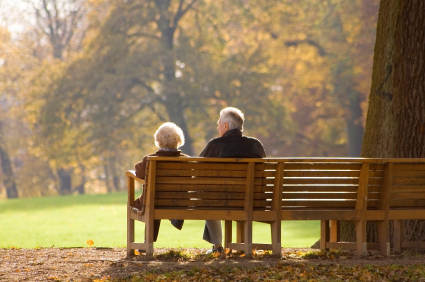 He had been in the military and they had traveled the world. They lived in California, Europe, Pennsylvania, and now Florida. In his working days he was a flight engineer. After that all ended he engineered projects at home. She kept busy following after him and keeping a nice house.
Though they never had any children, they had each other. It was more than enough.
Now the worried look in her eye, and a few tears, reveal her concern. She still lives in their home, but he needs care that she can no longer give. So she visits every weekday when a caregiver gives her a ride. She wonders what the future holds. What would she ever do without him.
Faithfulness, thou art that married couple. 
There must have been ups and downs, happiness and hardship, joyful days and fun-filled dates. Faithfulness was woven through it all and bound them together like a loving knot. Love may not feel like it once did 57 years ago. It need not and must not. Now it's deeper, fuller, more sincere, and wants only what's best for the other.
Faithfulness is as rare and as unique as they are. It looks like an aged couple who care about nothing but the two of them. Together. It transcends any kind of space or time. It fills to the full the depths of an empty heart.
Faithfulness. Pity the soul that never finds it. Envy the one that does.
It is a gift beyond gifts.
Where have you recognized the gift of faithfulness?